Group Classes & Ensembles
Students are encouraged to join a performing group. Playing together is a fundamental aspect of musical education. Group lessons are formatted for an interactive dynamic that is not present in a one-on-one teaching situation, helping each student feel a part of a musical team.
Music Theory Classes
These classes use a practical approach to present the fundamental of reading, analyzing and understanding music. The classes include an introduction to music composition.
String/Violin Ensembles
Students of string instruments are encouraged to join one of the three ensembles (beginner to advanced). It enables them to learn to perform together as a group.
Rock & Jazz Ensemble
For players and singers who would like to get together and perform music in a low-pressure situation. Students play under the guidance of a professional artist and member of our faculty. Interpreting blues standards and jazz tunes is emphasized in solo and ensemble playing. Open to all instrumentalists and singers.
Previous experience required.
Vocal Ensemble
This class is perfect for the beginning to intermediate singer with an interest in improving his/her vocal tone, range, stage presence and performance technique. The focus of this course is to develop a strong and healthy voice and to build a repertoire from different periods and styles.
Chamber Music Classes
Provides opportunities for students to play together in duos, trios, quartets and quintets. These classes not only enhance the students music skills in a small group, but also teaches them to interact and communicate with others in a team setting. A teacher is assigned to each group to provide instruction on selected pieces.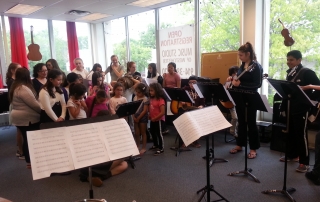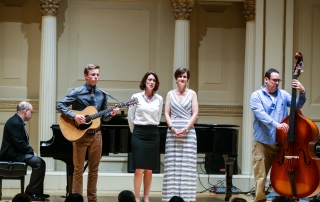 Excellent teachers, great students and supporting staff. Music School of Westchester provides serious music education to all ages. Five stars!
Great faculty! See great progress in my kids music career!
I love this place! I have played the piano for 15 years and my 8 year old boy chose the violin. Faina, his teacher, is talented and is a real musician with real expectations. Would strongly recommend.